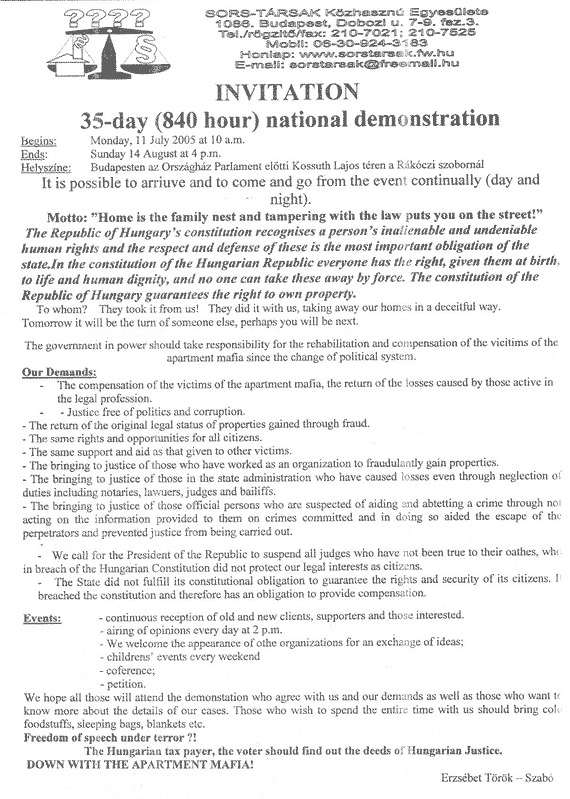 Hungary's apartment mafia




An anti apartment mafia protester sits outside Parlament during a 72-hour protest in October of last year. The protest coinincided with the work of a Parliamentary commitee looking into the problem, which the organizers, including Erzsébet Török-Szabó, President of Sors-Társak Egyesület, wanted to draw attention to.
By Tamás S Kiss

IT IS not unknown for people to been conned into buying expensive, often bogus, apartments, sometimes even with the help of professional lawyers prepared to risk their reputation and license for a quick buck. The perpetrators of these type of crimes have been dubbed the lakásmaffia (or apartment mafia), and Westerners are just as much in need for professional help and legal protection as the local Magyarok in order to prevent getting tangled in their web. Recently a Hungarian court issued a life sentence to a man after he and his accomplices conned an elderly couple out of their apartment and murdered them. Several lawyers were also implicated in the crime and are being charged for embezzlement and forging documents. Their case will be decided in September. In June Parliament voted to introduce more stringent laws to crack down on lakásmaffia activities, with all four political parties reaching consensus. The law enforcement committee of the parliament passed seven law amendments. The opposition called for very stringent laws as in the first quarter of 2004 alone the national police (ORFK) registered 79 lakásmaffia style crimes. Those are the official figures, but in the first six months there were at least 780 cases registered by the non-profit group Sors-Társak Egyesület (literally meaning Comrades Association, including all those who fell victim to the scams).

Erzsébet Török-Szabó, President of Sors-Társak Egyesület said, "Until is no affirmative action is taken against the legal representatives and accomplices of the perpetrators, the real estate market will continue to be abused [by the wrongdoers]." She added that no matter how well educated anyone is, or how much life experience they may have, the criminals takes no hostages when it comes to swindling.

Socialist MP Katalin Molnár-Devánszki said that the legal amendment was required because more and more members of society are having to face the fearsome facts of increasing organized crime and embezzlement of residential real estate and rental apartments appearing in the media.

"The public are justified when they call for government, legal representatives and other authorities to improve legislation and crack down on such perpetrators," she said, adding that much more should be done by the government following the parliamentary sub-committee's analysis and exposure of the issue. "It is clear as what is expected and what needs to be done to oppress the lakásmaffia and remedy the situation for those who have been abused," she said. She added that personnel and technical support must be given to the authorities to prevent and persecute such activities at the land registration office and other supervisory institutions.

Molnár-Devánszki said that for the crack-down to be effective, delays at rural land registration offices must be remedied, so that the registration of all properties should not have the shadow of a doubt when it comes to ownership and public authorization.

Stuart McAlister, General Manager of expatriate service provider Inter Relocation Kft, who has been in the relocation business for several years, said that unless they have a good friend's trusted family lawyer, foreigners coming to Hungary should opt to hire a solicitor from a trusted international law firm, which deals the residential real estate business.

This may cost a few tens of thousands of forints more, but it is definitely worth it when purchasing a residential property worth tens or hundreds of millions of forints.

It is customary in Hungary to pay a legal fee of between 1-3% of the property price to the law firm, but again it all depends on the agreement laid down in the contracts.

"Any foreigner coming to Budapest would most likely purchase residential real estate in one of two ways, either as a corporate entity or as a private individual," McAlister said.

However he observed that purchasing property as a private individual would mean battling through a lot more red tape than for a corporate client.

Nevertheless all apartments, houses and other forms of residential real estate must .rst win a permit from the local municipality or self-government and in the case of Budapest the process must also pass the Közigazgatási Hivatal (Public Administration Office) for a permit.

He added, "For a corporate entity to buy residential real estate, it would need to set up a company, of which the simplest form is a Betétitársaság, better know simply as a Bt, and which can be set up with a few thousand forints as founding capital." McAlister said that for private clients any purchase should start with a preliminary contract reviewed by a lawyer the person trusts. In no way should they agree to any strongly recommended lawyer or legal representative of the other party if they do not feel comfortable with it.

Generally the lawyer is hired by the purchasing party and not the selling party.

However both parties may have their own legal representatives, which is natural in the case of very valuable residential real estate properties.

A deposit, if required, should also be placed in the custody of the lawyer.

McAlister explained that it is the lawyer's job (if agreed on) to run after the documents and inquire a t the property registration office and other required bureaus to check on ownership certificates and debts or loans on such properties. It is also very important to determine the exact ownership of the property.

In the case of corporate-owned residential property up for sale, the lawyer should pin-point the exact name of the company owning the property, the executives and their authorized signatories.

If need be, the company should call an exceptional general meeting to determine the exact details of the ownership of the property. In the case of a private buyer and a private owner, the details of ownership are, at least in theory, more black and white on paper.

The land registration office, which registers all properties in Hungary, must have the appendixes of all latest happenings connected to the residential property fixed on a side bar on the registration sheet.

All owners, tax agency rulings, mortgage bank loans etc should be visible on these registration certificates.

Once a property has changed ownership and is legally transferred from the seller to the buyer, the buyer must pay an additional transaction registration fee of between 4-6% of the purchase price.

Naturally, in the case of a corporate client, this is somewhat less.

However corporate clients who set up a business just to buy residential real estate must calculate with the fact that they will be entitled to pay taxes, maintain accountancy and other corporate activities that come with such a purchase.

If they want to sell the property later they will first have to convert the property (fixed asset) back into money (liquid asset) which is put back into the company and only then will they be able to close the company.